Oats and Dates Laddu/Energy Balls is a healthy recipe that gives you instant energy on a tiring day as the name says. Lately, as you all know a wide variety of healthy oats recipes are being made. Like Oats energy bar, Oats dosa, Overnight Oats and the list goes on. Oats are a nutrient-rich food that helps to lose weight, control cholesterol etc.
Also, on the other hand, Dates are packed with essential nutrients, rich in fibre and natural sugars.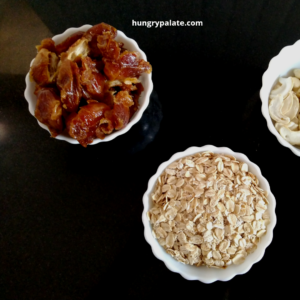 People say that having three dates on a daily basis is very good for our body and skin. Soaking overnight and consuming in the morning is another alternative.
Today I am going to share an Energy ball recipe that has NO SUGAR, NO JAGGERY but only NATURAL SUGARS from DATES.
Also, I added flaxseeds too to this energy ball for that extra nutritional value.
I also posted a recipe on Atukula Laddu/Flattened Rice Laddu which is made of Jaggery, another Healthy Energy Laddu.
Now let's jump into the ingredients and step by step procedure of the recipe.
Ingredients
Rolled Oats-1 Cup
Dates/Karjuraalu/Karjuura-1 Cup De-seeded
Flax Seeds-1 Teaspoon
Cashew nuts/Jeedipappu/Godambi-10-15
Almonds/Badampappu/Badami-10-15
Clarified Butter/Ghee/Neyyi/Thuppa-1 Teaspoon
Procedure for Oats and Dates Laddu/Energy Balls
Remove onto a plate and allow it to cool down.
In the same pan add in Cashew nuts, almonds, and dry roast them as well until they start turning golden brown.

Cashews&Almonds in pan

Roasted Cashews&Almonds

Remove and allow to cool down
Switch off the stove and add in Flaxseeds roast them until crisp (the heat of the pan should be fine to roast them until crisp)
Once cooled, add them to a mixer jar or grinder and grind to a coarse powder.
Check the paste if it can hold the shape when squeezed like a chapati dough ball.
In the end, at this stage, add ghee/clarified butter in 3 intervals and run for 2 seconds until combined.
Transfer to a plate and form laddus/energy balls of the size you wish for.
Healthy Oats and Dates Laddu/Energy Balls are ready to give instant energy 🙂 on a tiring day.
–You can even roast Peanuts and add in this for that extra nutty flavour.
–I used Quaker Rolled Oats 
Note- Purchase link is for general purpose only